TrailNorth Federal Credit Union celebrated the groundbreaking for its new administrative office on September 21st. The new building will be located adjacent to 's current Ticonderoga branch.
The ceremony kicked off with TrailNorth's CEO Shawn Hayes, thanking those who attended. He highlighted the Credit Union's core values and how continued growth ensures a healthy, vibrant, and thriving credit union now and long into the future. In closing, he stressed our commitment to giving back and how we are excited to bring this new building to life in the community where we began.
When complete, the project will relocate many of the administrative staff in the Ticonderoga branch currently. By creating more space in the branch, we can offer a comfortable environment for members to ask questions and for us to provide additional products and services.
Building construction is expected to be complete in the spring of 2022.
Building updates may be found at: www.trailnorth.com/ti-building-updates
On Hand to Celebrate:  TrailNorth Leadership, Volunteers, Community Leaders, AEDA (Architectural & Engineering Design Associates) and, VMJR Construction Associates.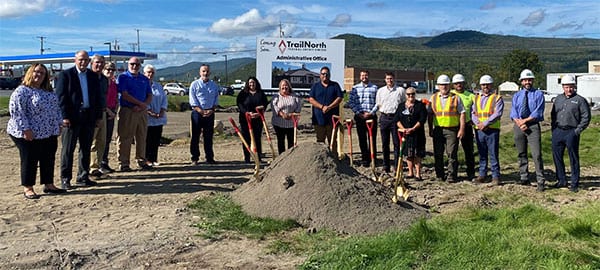 Pam Nolan - TrailNorth Director of Office Operations, Facilities & Special Projects
Bill Barnhart - TrailNorth Supervisory Committee Member
Rick McClintock- TrailNorth Board Member
Carolyn Ida - TACC Board Chair
Pat Ida - TrailNorth Board Chair
Anne Dreimiller - TrailNorth Board Member
Shawn M. Hayes - TrailNorth President/CEO
Amy Manfred - TrailNorth Executive & Human Resources Administrator
Wendy Courtright - TrailNorth Chief Member Experience Officer
Matt Courtright - TACC President & CEO
Cory Phinney - TrailNorth Chief Financial Officer
Joe Giordano - Town of Ticonderoga Supervisor
Donna Wotten - Ti Alliance Executive Director
John Bossalini- Project Manager
Toby Collier - Site Superintendent
Marc Murray - VMJR Senior Project Manager
Jim Abdallah - AEDA Vice President
Shane Chatelle - AEDA Project Architect